Shavuot Guide 5783 (2023)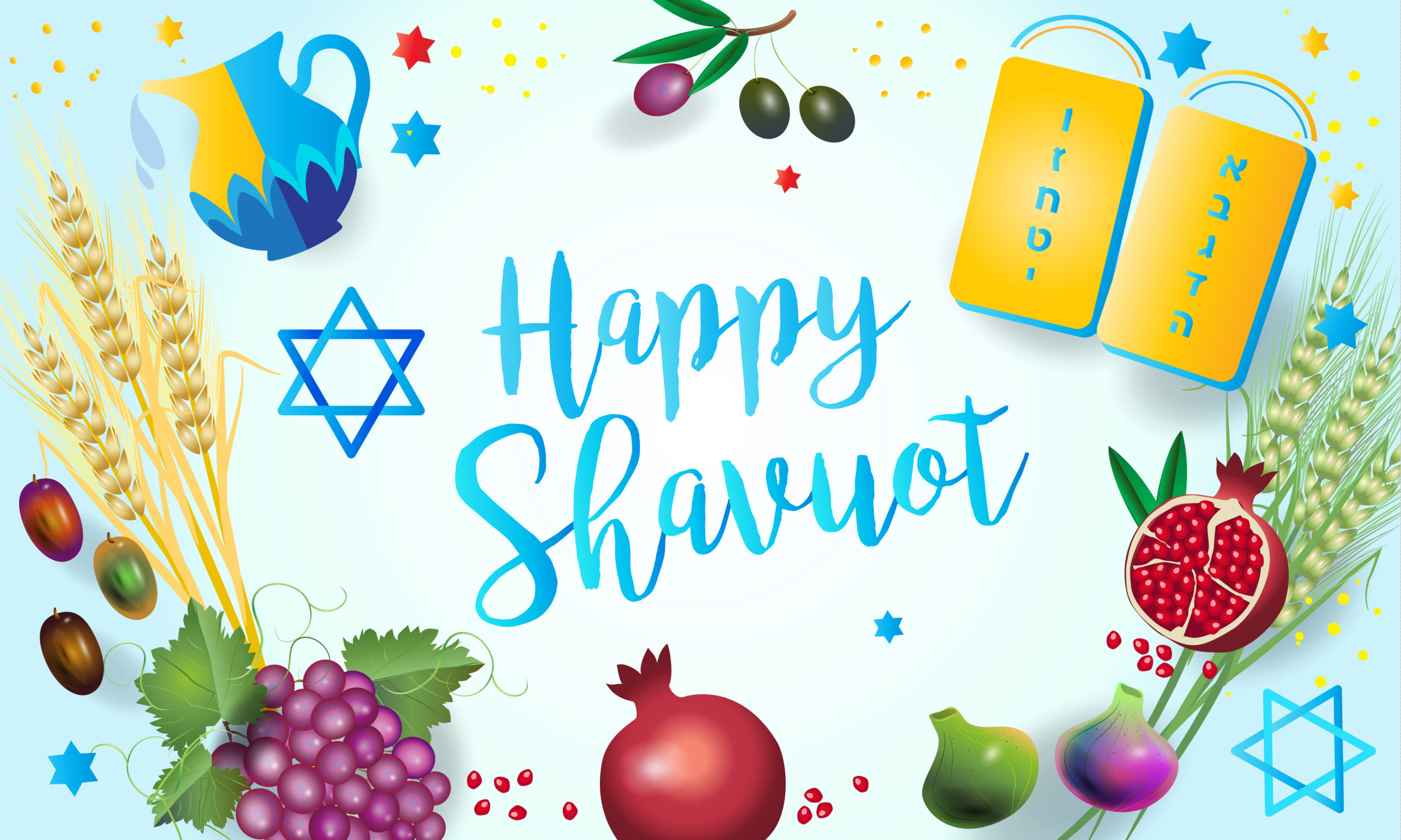 5783/2023
---
Table of Contents:
What is Shavuot?

Ten Commandments for Kids

Shavuot Stories & Fun Kids Activities

Shavuot Songs, Skits, & Videos for Kids

Shavuot Recipes

KJ Schedule & More
---

What is Shavuot?
Shavuot is celebrated for 2 days outside Israel (and in Israel for 1 day). The name Shavuot means 'weeks' because it occurs 7 weeks after the 2nd day of Pesach. It falls on the 6th day of Sivan. The Torah was given to the Jewish people on Shavout.
This festival marked the harvest of the wheat crop, the last grain harvest of the season, and the beginning of the fruit harvest. A major feature of the celebration was the ceremony of bringing the "first fruits", or Bikkurim, of the harvest to the Temple as an offering of thanks.
The Bikkurim were carried in beautifully decorated baskets. Families would gather together to walk to Jerusalem and they would sing, dance and have music playing whilst they walked. When they arrived at the Temple, they gave the bread and fruit to the priests who would bless them. Today synagogues are decorated with greenery and flowers at Shavuot.
Tradition has it that King David was born and died on Shavuot and many students in Jewish schools have their graduation on Shavuot.
Different Names for Shavuot
Z'man Matan Toratenu – the Time of the Giving of Our Torah
Chag haBikkurim – Festival of the First Fruits
Chag haKatzir – Harvest Festival
Chag Matan Torah – Festival of the Giving of the Torah
---
Ten Commandments Kids
Activity
The "Joyful Jewish" blog has a wonderful craft that teaches kids about receiving the Torah at Mount Sinai.
You will need:
a "Ten Commandments for Kids" printout (Click Here)
crayons
a teabag
construction paper for cut-out shapes
kid-safe scissors
glue or glue stick
a large sheet of colored paper for backing
Make the Tablets with the 10 Commandments
Read the 10 Commandments printout with your kids
With each commandment, invite them to think of examples from life
Color the 10 Hebrew letters from the alef bet.
Cut out the tablets of the 10 Commandments.
Dab the white paper with a damp tea bag
Set to dry.
Prepare the Background
Invite kids to trace shapes like flowers, birds, grass blades, sun, lightning, and more on colored paper
Have them (or you) cut out the shapes.
Glue the dried 10 Commandments to the background paper.
Glue the shapes around the 10 Commandments to decorate.
---

Shavuot Stories and Fun Activities for Kids
Click HERE for Chabad Shavuot Stories
Click Here for Kids Activity 1
Click Here for Kids Baking Activity 2
Click Here for a Shavuot Kids Activity 3
Click Here for a Shavuot Kids Activity 4
Click Here to Celebrate Shavuot at Home
Coloring Pages
Coloring Page 3 Ten Commandments
---
Shavuot Songs & Videos for Kids
---
Shavuot Recipes
Click HERE for More Shavuot Recipes from Kahal
---
KJ Shavuot Schedule
Erev Shavuot
Thursday, May 25th
Minha / Arvit 7:00 pm
Candle Lighting 7:37 pm
Night of Learning 10:00 pm
Shavuot, Day 1 & Erev Shabbat
Friday, May 26th
Shaharit 9:00 am
Shavuot Family Celebration 4:30 pm
Ten Commandments Reading & Ice Cream Party
Candle Lighting 7:38 pm
Shavuot, Day 2 & Shabbat
Saturday, May 27th
Shaharit 9:00 am
Shavuot Luncheon after services, in loving memory of Claire Assia, z"l
Havdallah 8:40 pm